That's what I did last night. We went to see James Bond in dresses and suits (most of us, there were some un-cool people who
didn't
dress up)Then we went back to a friend's place and drank and drank and drank. it was awesome. I really enjoyed the night. I also got to play with a Sonic Screwdriver, but that's another story all together.
Knitting news! I finished the firestarters on Halloween night.
They're awesome and so soft. I wore them in my (steel toe) boots to day camp with the Brownies and they saved my butt and my feet. :)
I got my The Loopy Ewe order in on Friday. I love it so much and really
really
want to cast on the yumyummalabrigo, but need a pattern first. Any ideas on what to make? I'm thinking maybe a cowl, but what pattern? oh and btw, the sock yarn is SUPER bright. I love it. I'll need a pattern for that too. maybe a toe up sock, I like gussets other than how they change the color repeats, we shall see anywho.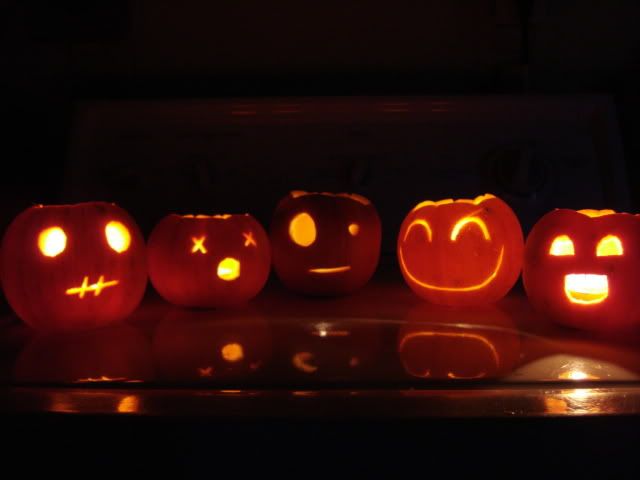 These are my pumpkin dudes from halloween. They were about the size of large apples, and I carved all 5 in the time it used to take me to carve one big intricate one. I don't remember what I did last year, I'll have to check out my blog, because I think i blogged about it....not too sure. There were lots of the "older" kids who went trick-or-treating that absolutely loved them, and a few even took pictures. My fav has to be the guy in the middle with one eye bigger than the other.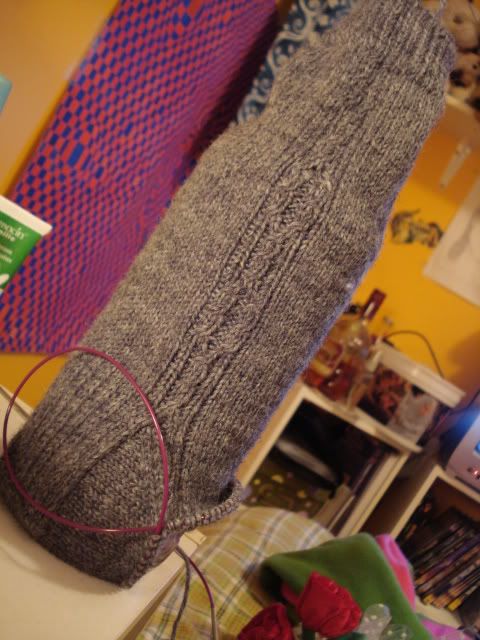 These are TOMs Earl Grey socks. I dont know if I'll have enough yarn to finish them or not, which is kinda freaking me out, but I do have some black in the same yarn that I might have to do the toes out of, that'll be okay. He's getting socks, who cares about the colors. lol.
I've been pretty monogamous to TOMs socks, but I have been working a little bit on the crocheted Ear Flap toque im doing out of Cascade220. It's coming along fairly well, not sure how happy I am with it though. we shall see when it's done though.
I think that's pretty much it. I need to be a better blogger, I need feedback too! if you guys tell me to update, I will! but for now, I shall leave you with this random quote from last night:
Me: "I'm getting wet!" Friend: "We all are, it is raining after all." Me: "Yeah, but I'm not wearing pants."
-cheers and happy knitting! .gg.