Media: Television, The Hour. My boyfriend (George) is doing his intro *swoon*

Projects: Two Monkeys on a Stick (two at a time Monkeys), Paca Cowl (Zig Zag cowl), Flowers on Fire (Firestarters)
So look at me, I'm a good blogger, keeping up to date and stuff. I even have pictures this time too! I've been a bad shopper though, more about my recent purchases in a moment.
I tried the two at a time on two circs, and I found that there was just way too much cable/needles, so I changed it to two at a time using Magic loop. Not only are things much less tangled, but the rounds are quicker. I've got two repeats done already and I think I might just do the short row heel next rather than go any longer (I like short socks). I'm liking how they're going so far and if I were to make them again though, I might try the purl-less monkeys, just to see the difference. And lookie! Picture.
I finished the first Socks and Stripes sock a few days ago. I didn't go all the way up to the knee, I'm pretty sure that I didn't have enough yarn to do that, but I did get them up to about mid calf. Of course, castonitis jumped me, and I didn't do the second Socks and Stripes, I cast on a different pair of socks. I need to cast on the second pair soon because damn, it's cold in my house (I broke down and turned on the heat, watching the budgie shiver wasn't a pleasant sight).
I've done about 3 repeats done on the Paca Cowl, just one more then a few rows of Garter stitch and BAM! I have a light warm cowl, I'm really excited. I tried to take pictures the other night when I did my latest photo shoot, but it kept coming out way too orange so I deleted them. It wasn;t even a nice orange, think radioactive gross orange, and this was still worse.
*Knock Knock Knock* Oh yea, Castonitis came to visit and left me with a toe for a pair of firestarters our of BMFA STR in Flower Power. I got dad to help me wind the skein into a ball, and I have to say, mom does it so much better. lol. I tried the firestarters a while ago, but I was doing them on Addi Turbos Size 0, which have a fairly blunt tip, all the cabling was killing me so I frogged them. I'm doing them on Knitpicks Size 1, which have a relatively sharp tip, so it should be better this time.
And now, I would like to introduce the latest addition to my knitting addiction, her name is Sally Fedora.
She will be helping me by modeling all of the hats and probably cowls that I make in the future. Here you see her in the Lolipop hat I made out of Twilley's of Stamford Freedom in the Lolipop colorway. I plan on giving this hat to the hospital, I just have to remember to bring it up to my Nanny's before she goes to donate all of the finger puppets that she makes.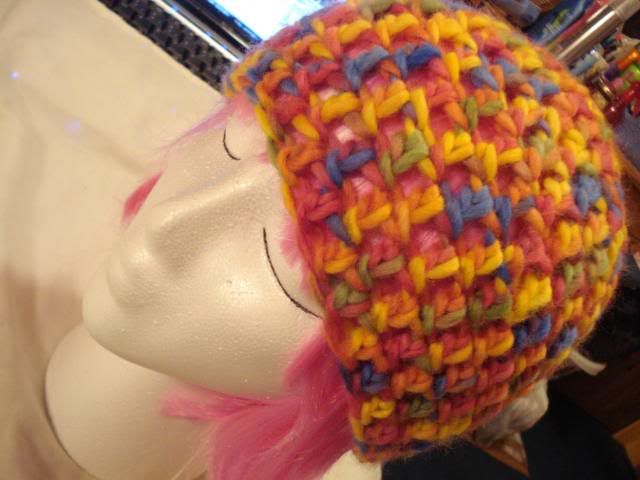 I did some spinning and plying this week too. I bought some Fleece Artist fiber the last time that I was at LK with Crystal and the baby. It was an absolute dream to spin, pretty much like butter through my hands. I tried to navajo ply it, but I couldn't get a good rhythm going, so I canned that pretty quick and went back to my trust andean plying method. I got 132 yards out of the 50 grams. I'm very happy. It's soft too. Did I mention that I really love it?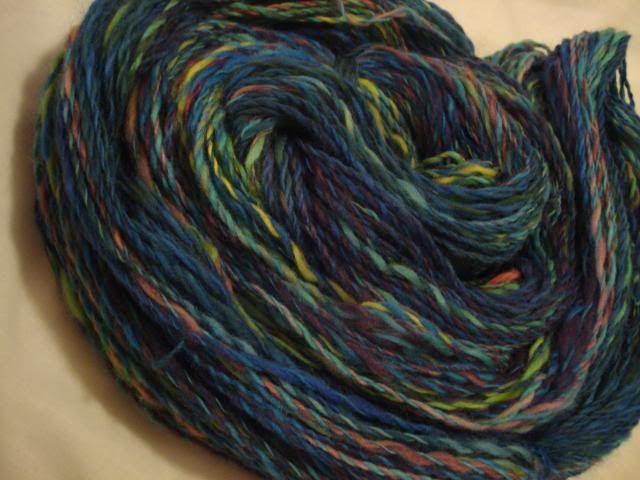 I finally got pictures of the Vihevaara (Vogue Fall 2008) that I'm working on out of Cascade 109 Tweed LE. I don't think I have enough of the black, so I might have to do the sleeves out of pink and somehow try to figure out a way to make it look alright. Black really doesn't photograph well, but you can kinda see what's going on.
As promised, my recent purchases: Men with Yarn (an amazing calendar from the Panopticon), a set of mini prints from the Dreamy giraffe (I got Knitting is Love, Part Cookie Monster, Blonde Dream Big, and Makes Ordinary Things Extraordinary), I also bought a couple new books with some babysitting monkey, they are Free Range Knitter and Everything I Learned from knitting, both as you guessed it are by the Yarn Harlot. I finished up The Secret Life of a Knitter, and I've started Free Range Knitter, it's just as good as The Secret Life, I think I mgiht need to get more knitting books. I thought that my yarn stash was bad, and then the fiber stash was gettig bad, but now I'm starting a book collection. Great. Because my room isn't small enough already. I guess thats why dad and I put up a shelf on Sunday, it's currently holding some books, Sally Fedora, my newest handspun (Fleece Artist), and my small scale. Don't laugh, my room is tiny, my parents took pity on me in September, and told me to put a couple bins in the corner of the hall that has all my fiber in it. Gave me a bit more space, but I'd still like more. The wish of every knitter/fiber enthusiast.
Well that's it for now!
-Cheers and happy poly-crafting!