I'm a terribly horrible blogger. Been far to long between updates. I don't think I can keep up with all that's going on. Not too much has been accomplished in the way of knitting FO's, but I have managed to start a few more projects, and then promptly put them down and pick up older ones for a few minutes. Let me tell you, that is
not
the way to get things done.
In better news, I have some pictures. Nothing really totally interesting, but I have decided to start selling some Stitch Markers. I only have 5 sets right now, and don't know if it'll be an informal thing on my blog/plurk or if I'll open up an ebay or an etsy store. Right now it's just going to be informal. I'm thinking that I'll sell them for $7 a set plus shipping ($1 Canada, $2 US, $3 elsewhere). If you're interested you can email me theaudiochick[AT]gmail[DOT]com just make sure to put "stitch marker sale" in the subject line.
Christmas Balls
Goldies
Tubies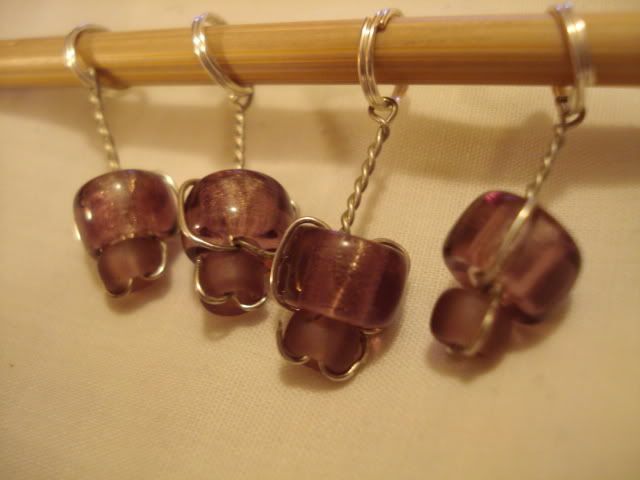 Purple Rain
Woody Zebras
Since it's been so long, you'd figure that my WIP's will have changed, but nope. Here's what's on the needles/spindle (and omg what's on my spindle is drool worthy). I've still got the Lizard Ridge blanket on the go, working on the 4th panel currently. The Malabrigo Lace scarf (Leaf Lace Scarf) is coming along well, I've got about 14 pattern repeats done so far. I've nearly finished the Corporate Zombie and the Day of the Dead guy from Creepy Cute Crochet, they just need eyes and features put on to them. I finished a Turn a Square toque from Brooklyn Tweed and then Crystal and I tried to felt it because it was way too big, I don't really know how it has turned out though, Crystal said it didn't get much smaller, but we'll see, who knows, maybe I'll have a nice box. lol. I cast on Vihevaara from Vogue Fall 2008 in some Cascade 109 tweed that I bought last year to make a different sweater. It's going fairly well, I've got....at least 6 inches done I'd say, about a repeat and a half. On the spindle, get this, Fleece Artist Merino Silver. It's butter. Amazing to work with, firm (I like firm) but still slides along itself well. I'm also finding that my spinning is getting faster and faster, all of a sudden it's like "woah, how'd I get all this?" lol.
Ebay purchases this month.....Knit picks needles, 2.25mm 32inch circulars in both wood and metal. Sixteen dollars for both with shipping included in that. I thought it was a pretty good price, and considering that I dont have a credit card to buy from the Knit Picks site, it worked for me. And my favorite purchase of all times, a head. I bought a foam mannequin head. It was $10 with shipping, so once again, I think I did good eh? A while ago I also got a stapleless stapler, it's pretty much the coolest thing ever. I use it at Brownies all the time.
Well folks, that's it. A long time between updates, I'll try to be better, and I'll also try yo take some pictures of my WIP's for my next update.
Cheers and happy Poly-crafting!